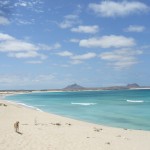 We had a wonderful time on our holiday  to Cape Verde, it was truly paradise with white sand and turqoise blue seas in a huge bay. Our huge hotel was also very s special  – one of the best hotels we have stayed in – 750 rooms, but didnt seem crowded at all. The staff were excellent and the food was second to none, it was a first class dining experience, they could not do enough for us, laying a large table every night – excellent.
As we arrived on 29th April we were welcomed with a Royal invitation to the Royal Wedding party!! Champagne and wedding cake  were laid on for us, large screens to watch the whole ceremony, us brits waived our flags, the atmosphere was very special, unfortunately we missed the welcome meeting -shame!!
We went on a 3 mile walk the next day with our Tui rep, right along the fab beach and over the sand dunes past the camel rides, what a breathtaking view of the bay. We arrived at the "city" in the desert, (more like a small village) with around 6 so called shops! but they were mostly closed on Sundays but Rhona and I managed to haggle with the natives while the others waited – good on ya Rhona!. But we still had some euros left – John was has well pleased.
Although there was always an offshore wind, no snorkelling, but great waves for belly boarding and swimming, especially with Linda and Ellie. The divers were happy with 10 dives, we all chilled out on our sunbeds.
Next day we went on a catamaran whale watching-humpback whales. What an unforgettable experience , we were all amazed and hopefully the photos will proove it.
Also we saw small turtles on our beach, it was amazing but they were so quick we might not have captured them on film – but its in our memories.
All in all it was a fantastic holiday to remember with our brilliant friends – cant wait till the next one!!
Chris Wade xx